Legislation on Herbal Medicines
Following the Medicines Act 1968 regulation of all medicines increased substantially. The regulation of herbal medicines in the UK has passed through several phases:
Product Licences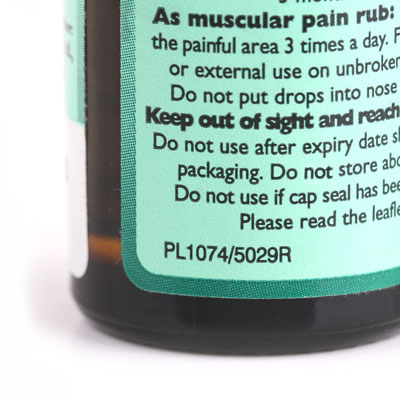 From the early 1970s a herbal medicine making a medicinal claim on the label required a Product Licence. Acceptable products already on the market were granted Product Licences of Right (PLRs) with minimum formality at the time, but thereby became subject to general regulatory requirements for medicines including, for example, the premises in which they could be manufactured. The European Community Review of Medicines during the 1980s required such products to be reviewed for quality, safety and efficacy by 1990. Those that satisfied the requirements were granted a Product Licence (i.e. a full Marketing Authorisation) and can be identified by a "PL" number on the product pack. For the majority, the available evidence of efficacy was based more on human experience than formal clinical studies and therefore indications had to commence with the words "A traditional herbal remedy for……".
Herbal Medicines Exempted from Licensing
Section 12.2 of the Medicines Act 1968 permitted a herbal remedy to be exempt from licensing if it contained only one or more herbal substances, had a name which specified only the herb(s) and process, i.e. no proprietary trade name, and no medicinal claims were made for the product. Large numbers of such products were on the market until Section 12.2 was revoked in April 2011 upon full implementation of the THMPD, making further importation and/or distribution illegal.
Traditional Herbal Registrations (THRs)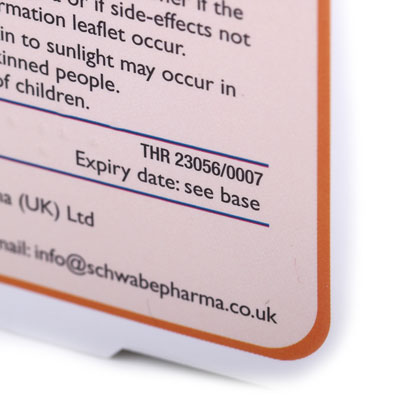 The new European Traditional Herbal Medicinal Products Directive or THMPD (Directive 2004/24/EC) established a new regulatory approval process for herbal medicines in the European Union; it came fully into effect on 30 April 2011.
A herbal medicine meeting EU standards of quality and safety, but not supported by clinical evidence of efficacy considered acceptable for a full Marketing Authorisation (MA), may be granted a Traditional Herbal Registration (THR) provided that bibliographic or expert evidence demonstrates 30 years of traditional use for the required indication, of which at least 15 years must normally have been within the European Union. THR products have indications commencing with "A traditional herbal medicinal product ….." and ending with "…… based on traditional use only", and comprehensive information for safe and effective use must be included in each product pack.
In the UK the first THRs were granted in 2006 and almost 200 had been granted by the end of 2012. A Public Assessment Report (UKPAR) on each product granted a THR is published on the MHRA website (www.mhra.gov.uk); it includes substantial information including the Summary of Product Characteristics and images of the label and in-pack leaflet, and can be found by entering the product name in the search box. A chronological list of products granted a THR can be found on the MHRA website by entering "List of products granted a Traditional Herbal Registration" in the search box. In retail shops THR products can be readily identified by a THR number and distinctive 'THR' logo on the pack.
Current Regulatory Status of Herbal Medicines on the UK Retail Market
Manufactured herbal medicines placed on the UK market since April 2011 are required to have either a Traditional Herbal Registration (THR) or a Marketing Authorisation (MA). In due course, therefore, all herbal medicines on the market will meet the same stringent criteria, satisfying EU requirements applicable to any medicine: a consistently high standard of quality, regular monitoring of safety, and full information for safe and beneficial use of the product provided by in-pack leaflets.
For historical reasons, there are exceptions to this scenario at the moment:
As a concession, herbal remedies exempt from licensing and held by retailers on 30 April 2011, when Section 12.2 of the Medicines Act 1968 was revoked, were allowed to remain on sale. Residual stocks of such products should now be sold out or low and nearing the end of shelf life.

Since some herbal medicines for which Product Licences with "traditional" indications were granted up to 1990 may be more appropriate to the THR category, such products are gradually being transferred from PL (MA) to THR status, with upgrading of dossiers where necessary.  When this has been achieved only herbal medicines with medicinal claims supported by acceptable clinical data will have Product Licences.

The MHRA has faced difficulties in defining which herbal substances and products are categorically medicinal and hence subject to medicines regulations. At the moment the status of individual herbal products is assessed on a case-by-case basis. Final Determinations on specific products are published by the MHRA from time to time but they are not extended to provide any general rulings. Since this procedure is inevitably slow and laborious, the correct legal status of numerous herbal products on the market remains to be determined.
Herbal Practitioners
Section 12.1 of the Medicines Act 1968, which remains in force for the moment, permits a herbal practitioner to supply herbal remedies exempt from licensing provided that each remedy is manufactured or assembled on the practitioner's premises and is supplied on the basis of a one-to-one consultation with the person receiving it.
In February 2011 the Secretary of State for Health announced that statutory regulation of herbal practitioners would be introduced. The Health Professions Council has been asked to establish a statutory register for herbal practitioners and a formal consultation will take place on legislative proposals for establishing the register and for reforms of associated medicines legislation.
This article was originally published by BMHA
Further recommended reading.
ANH-News articles the most recent on this topic being.
US and EU Legistrator's share the same abusive tools